Original Medicine 4-Part Series: Healing the Broken Links to Ancestors and Nature with Mbali Marais
04/01/2023 09:00 AM - 11:00 AM PT
Description
Healing the Broken Links to Ancestors and Nature
with Mbali Marais
Knowing that you love nature can change you. It invites us into a relationship based on what we love we protect and celebrate. If we only take and feel nature owes us we have broken the links to a relationship based on Nature's law of respect, integrity and sacred reciprocity. These same broken links are interconnected with our ancestral legacies. Join Mbali as she explores the radical concept of the genocide of consciousness through separation from nature and ancestors as a deliberate act that brings about a spiritual destruction to a peoples. This rift creates broken links that disconnects us from our ancestors and the deep layers of Nature's bounty on all levels.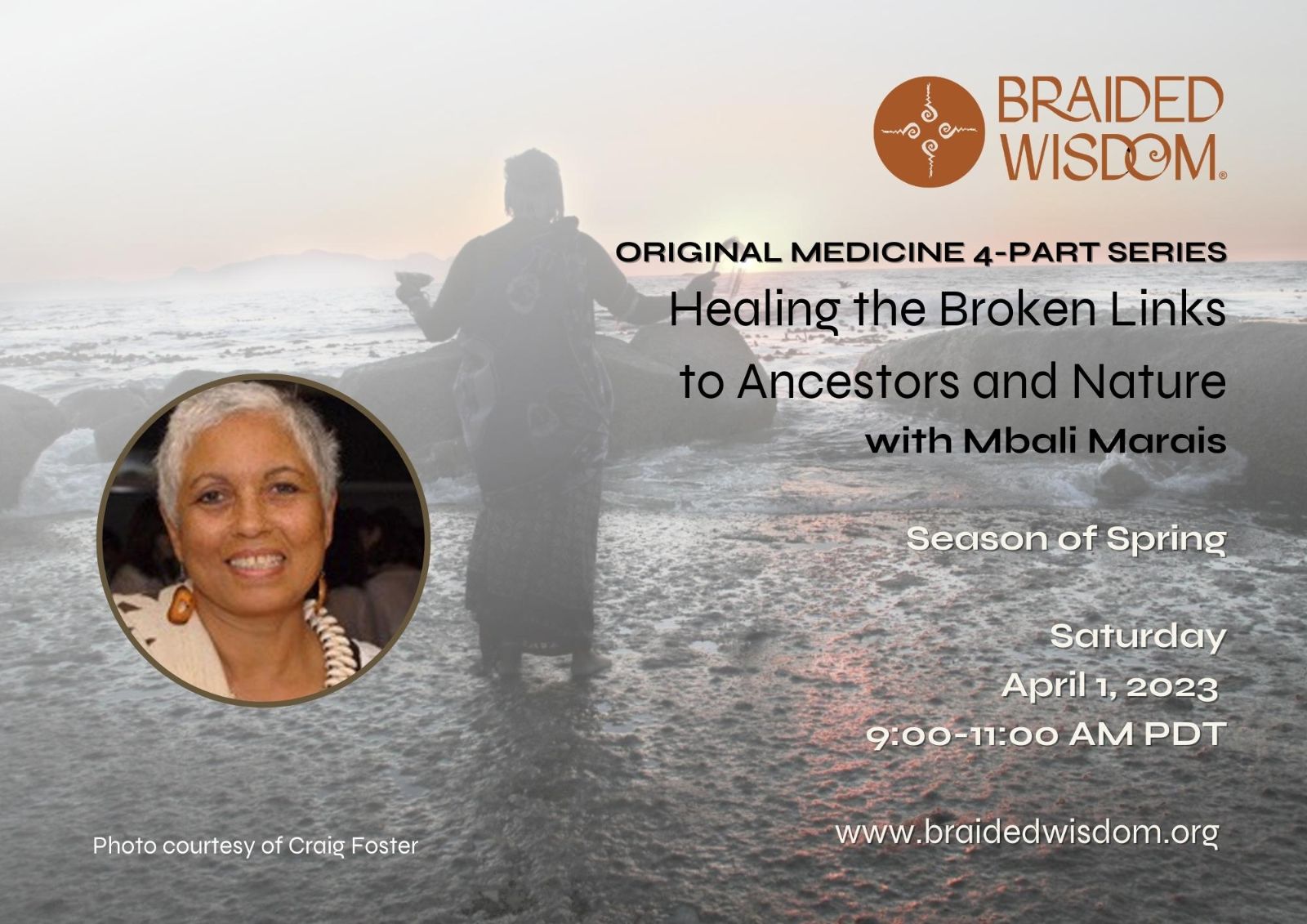 If you will be joining us, please bring the following to the session:
A bowl of earth
A handful of sesame, sunflower or chia seeds
A small glass of water
About Mbali Marais
Elder Diviner & Medicine Woman
Mbali is a descendant of a Khoi Khoi ( Khoi Khoi means -The Real People) peoples on her mother's side from the Western Cape, South Africa and the Amaghebe clan of the Xhosa peoples on her father's side in the Eastern Cape. She is mother to a Xhosa boy (who came into her life when he was 9 years old) a sister, daughter, aunt, mother to many. Her lineages include Dagara west Africa (adopted) Bushmen, Shangan, Grique, Khoi Khoi, Dutch, French Hugeunots and Portuguese.
Mbali Marais is the founder of the Return to Origin non-profit organization. www.returntoorigin.org.za an organization that works with young underserved people in South Africa to return them to their origins. She has facilitated the three year Indigenous Knowledge Leadership Program and graduated leaders where inner and outer work are at the heart of transformation.
About The Original Medicine 4-Part Series
This program is a psycho-spiritual cross-cultural mindfulness approach to the teachings that weave together Indigenous Wisdom, Mindfulness, and Earth-based practices in order to integrate seasons and the transitions between the seasons as cross-cultural mindfulness tools. In Indigenous societies, there are long-standing practices of honoring the sacred, cultivating stillness, embracing silence, being in nature, and conducting rituals to acknowledge the coming changes in the world around them and within themselves.
Prior participation in previous OM 4-Part Sessions not required.
This event registration is for the Original Medicine 4-Part Series - Spring Season on Saturday, April 1 from 9:00 - 11:00 am (Pacific Time).
A Zoom Link will be sent on Thursday, Friday and Saturday, prior to the event. Please check your spam folder if you do not see our email with the zoom link.