Original Medicine Yearlong Program 2023
02/07/2023 - 12/05/2023
Description
Indigenous societies recognize individuals holding our personal power as Original Medicine. The shadow of the false self is purified as we strengthen our authentic self through the practice of coming home to our truth and power. The teachings of Buddha and Indigenous wisdom build this foundation of truth, trust, and love. Together we will explore ways of coming into our own Original Medicine and enhance our personal growth and purpose.
As we prepare to open our sangha to our third batch of students, we would like to get to know each one of you a bit more and what brings you here.
We request for you to write a 1-page essay answering the question, "What brings me to this program?" and kindly fill out our Original Medicine Student Information Form and Original Medicine Year Beginning of Year 2023 Self-Assessment. Please submit by February 5, 2023.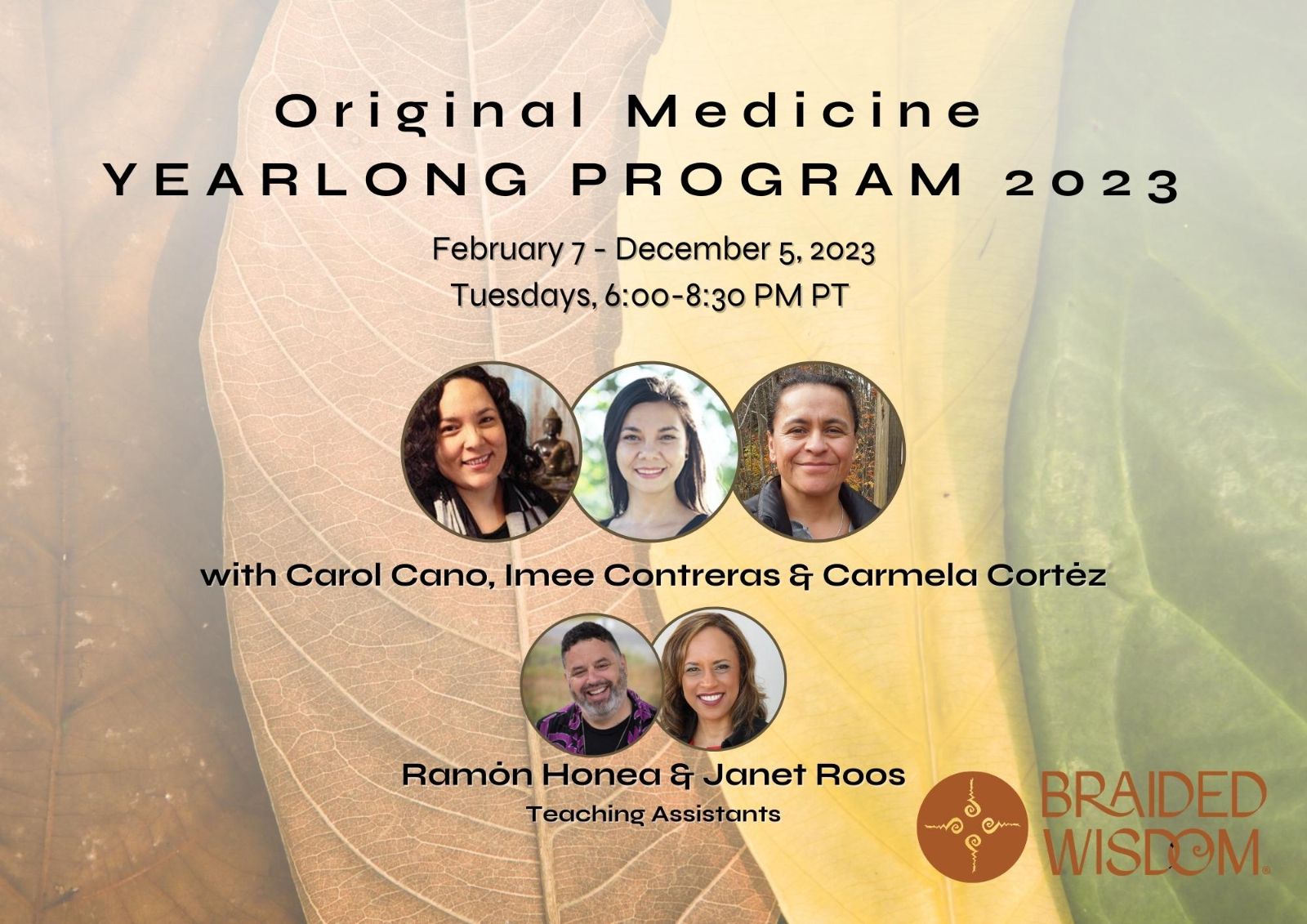 About The Teachers
Carol Cano, M.A.
Founder / Executive Director / Lead Teacher
Carol Cano, M.A., began her practice over 30 years ago at Wat Kow Tahm in Thailand and has actively engaged in building communities and teaching Dharma internationally. She is a teacher at Spirit Rock Meditation Center. She is a core teacher and a former board member of East Bay Meditation Center. Carol co-founded Philippine Insight Meditation Community in the Philippines.
Her unique teachings are deeply grounded in Basque, Native American and Buddhist influences that braid the Dharma along with indigenous wisdom and Earth-based practices. Her psychology background gives her a unique view into the human condition, which helps her hold community in a compassionate and confident manner. Carol reminds us to keep grounded in our hearts as we uphold spiritual ideals and encourages us to remain balanced within the demands of modern life.
To find out more about Carol, please visit www.carolcano.com.
Imee Contreras, CMT-P
Co-Teacher
Imee Contreras is the founder of Mindfulness Asia. She is a co-founder of the Philippine Insight Meditation Community and Katahimikan; Philippine National Day of Mindfulness. She is a UCLA-Trained Mindfulness Facilitator, and an authorized UCLA MAPs facilitator. She is Community Dharma Leadership Program graduate of Spirit Rock Meditation Center, and a visiting teacher at the East Bay Meditation Center. She served as the Membership Coordinator of International Mindfulness Teachers Association. She develops mindfulness programs for international companies, schools, and events. She volunteers to teach incarcerated women serving life imprisonment and also supports abused women and children in the Philippines.
​
To find out more about Imee, please visit www.imeecontreras.com.
Ma. del Carmen Cortéz (Carmela)
Co-teacher
Carmela Cortéz was born in Michoacan, Mexico, the wintering home of the monarch butterflies. Her mother and grandmothers taught her the nature of plants through song and story. They listened to bird song during the day and found form among the stars in the night sky. These are lessons she still carries within her. Her family followed the harvesting seasons, from Spring and Summer in the California central valley to Fall and Winter in her hometown of Purépero. Her mestiza roots and warrior heart are from the Purépecha (Tarasca) lineage. She is a curandera, clinical herbalist, an artist at heart, and a permaculturist with a passion for equity and sustainability.
Program Fees
You have the option of choosing 1) the reciprocity contribution level and 2) the frequency by which you'll submit payments to Braided Wisdom.
Reciprocity Contribution
As we look towards creating a new world, one important way to ensure continued growth and engagement with our communities is establishing a practice of sacred reciprocity contribution where individuals may support the participation of current and future participants who may not have the same capacity. We recognize most mainstream events and programs like ours are priced at levels far out of reach for many in our community. As a result, we have made our events and programs accessible to all by inviting participants to enter into a relationship of sacred reciprocity to share support with others on the path.
Reciprocity Contribution Levels
Benefactor Tier: Reciprocity Contribution: $900.00.
The Benefactor Tier supports the largest partial contribution for a fellow community member.
Spiritual Friend Tier: Reciprocity Contribution: $750.00.
The Spiritual Friend tier supports partial contribution for a fellow community member.
Supporter Tier: Reciprocity Contribution: $600.00.
The Supporter Tier supports most of the program/event cost.
Community Builder Tier: Reciprocity Contribution: need support
Please reach out to the Braided Wisdom Team at this level, info@braidedwisdom.org, to discuss options.
Payment Frequency
Full Up Front, Quarterly, or Monthly
**If you choose quarterly or monthly, you will be expected to submit a payment to Braided Wisdom at the end of each month. An event link requesting registration and payment will be sent to you quarterly or monthly.
Yearlong Program Dates
Tuesday Classes 6:00-8:30 PM PT
February 7 and 28
March 14 and 28
April 11 and 25
May 9 and 23
June 13 and 27
July 11 and 25
August 8 and 22
September 12 and 26
October 10 and 24
November 14 and 28
December 5
On the Land
Wolf Dream Mountain/Philippines
September 28-October 1, 2023, Thursday - Sunday
Payment for the On-land Gathering will be in addition to the reciprocity for the program.
** All class are on Zoom**
Registration closes on February 6, 2023.
Thank you for your consideration and continued support. We believe liberation is a collective path that thrives on meaningful relationships and mutual sustainability and sacred reciprocity. We appreciate your collaboration to expand these offerings to more beautiful beings in our community!